Dean Bradley Andropoulos, MD, MHCM
SmartTots Scientific Advisory Board, Member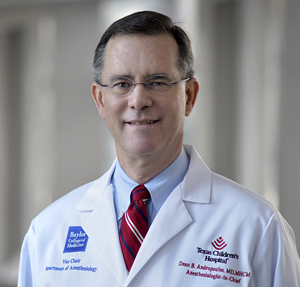 Dean Bradley Andropoulos, MD, MHCM
Texas Children's Hospital and Baylor College of Medicine
Scientific Profile
Areas of Specialty: Dr. Andropoulos is a board certified anesthesiologist and pediatrician, specializing in the effects of anesthetic and sedative exposure on quantitative brain MRI development and neurodevelopmental outcomes.
Research and Clinical Activities: Dr. Andropoulos has held various positions in the anesthesiology and pediatric departments at multiple universities, including Baylor College of Medicine; University of California, San Francisco; University of California, Davis; and Stanford University School of Medicine. Currently, as the Chief of Pediatric Anesthesiology and the Attending Physician of the Pediatric Cardiovascular Intensive Care Unit at Texas Children's Hospital, Dr. Andropoulos specializes in monitoring neonates and infants undergoing surgery for congenital heart disease. His research activities include neurodevelopmental outcomes of anesthetic and sedative exposure in infants and neonates, as well as the long-lasting effects of treatment for congenital and pediatric cardiac disease. Dr. Andropoulos is the editor of two textbooks, Anesthesia for Congenital Heart Disease and Gregory's Pediatric Anesthesia. He leads a department of over 50 faculty pediatric anesthesiologists, who perform more than 32,000 anesthetics annually, ranging from simple outpatient procedures to extremely complicated cardiac and neurosurgical anesthetics, lasting more than 12 hours. Dr. Andropoulos has conducted over 170 presentations, invited lectures, and visiting professorships, and authored numerous peer-reviewed publications. His vast expertise and experience offer significant contributions to the SmartTots Scientific Advisory Board.
Q & A
Why SmartTots?
The question of the effect of anesthetics in the developing child's brain, and their influence on neurodevelopmental outcome and school performance, is in my opinion the most important scientific, translational, and clinical question facing pediatric anesthesiology, and anesthesiology in general, in this generation. The answers to the questions of what are the true effects of these agents in children and what treatment strategies can be used, including different anesthetic agents to optimize the neurodevelopmental outcomes after an anesthetic, can potentially affect millions of children each year undergoing anesthesia.
What goals would you like to see SmartTots accomplish?
I would like to see SmartTots identify and fund meritorious research that will answer questions, and lead to clinical strategies, in children that will optimize neurodevelopmental outcomes after anesthesia and sedation. SmartTots should educate anesthesia providers and the public, particularly parents, about the latest research and data. SmartTots should also convene meetings and symposia to review data and levels of evidence, and make recommendations based on a sound scientific process.
How can the general public support SmartTots?
Certainly, methods to financially support this important FDA-IARS public-private partnership is a great way for the public to be involved. The public can be informed by being aware of the press, scientific releases, and news stories concerning SmartTots.
International Anesthesia Research Society
Executive Committee, Chair-Elect Board of Trustees, Member
SmartTots
Scientific Advisory Board, Member
Texas Children's Hospital
Chief, Department of Anesthesiology
Baylor College of Medicine
Professor of Anesthesiology and Pediatrics
Education
Harvard School of Public Health, MS Healthcare Management (2007) University of California, San Diego, MD (1984) University of California, Santa Barbara, BA Biological Sciences (1980)
Training
Anesthesia Residency, University of California, San Francisco (1987-1990)
Pediatrics Internship/Residency, University of California, San Francisco (1984-1987)
Program for Chiefs of Clinical Services, Harvard School of Public Health (2005)
Professional Affiliations
American Society of Anesthesiologists
Society for Pediatric Anesthesia
International Anesthesia Research Society
Society for Cardiovascular Anesthesiologists
Texas Society of Anesthesiologists
Congenital Cardiac Anesthesia Society
American Academy of Pediatrics
Association of University Anesthesiologists
Recent Achievements
President, Congenital Cardiac Anesthesia Society (2006-2008)
Board of Directors, Society for Pediatric Anesthesia (2006-2008)
Chair, Task Force on the Pediatric Anesthesia Fellowship, Pediatric Anesthesia Leadership Group (2010-present)
Member, Scientific Advisory Board, Association of University Anesthesiologists (2011-present)
Recent Research Funding
Neurological Monitoring and Outcomes for Neonates Undergoing Cardiac Surgery with Bypass

Texas Children's Hospital Anesthesiology Research Fund (2004-2007)

Principal Investigator

A Prospective, Randomized, Placebo-Controlled High-Dose Erythropoietin Neuroprotection Trial for Newborns Undergoing Cardiac Surgery with Cardiopulmonary Bypass

Texas Children's Hospital Anesthesiology Research Fund (2004-2007)

National Institutes of Health (2006-2007)

Charles A. Dana Foundation, Brain and Immuno-Imaging Grant (2007-2009)

National Institute of Child Health & Human Development (2009-2010)

Principal Investigator