Debra Schwinn, MD
Scientific Advisory Board, Member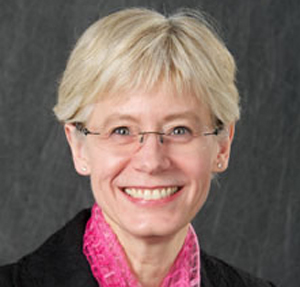 Debra Schwinn, MD
University of Iowa
Scientific Profile
Areas of Specialty: Dr. Schwinn is a practicing anesthesiologist with expertise in perioperative genomics and molecular pharmacology of alpha1-adrenergic receptors (alpha1ARs).
Clinical Care and Research Activities: Dr. Schwinn's laboratory investigates the role of acute and chronic stress on human physiologic responses in health and disease, using the perioperative period as a robust disturbance. The focus of this research is on the regulation of stress hormone receptors (alpha1- adrenergic receptors), using genetic, molecular, pharmacological and cell-based approaches. This research has significant implications for understanding mechanisms underlying cardiovascular disease, and is complemented by human perioperative genomics studies designed to examine how the stress of surgery affects patient outcome. Dr. Schwinn and colleagues are working to answer how genetic variability relates to patient outcome in settings involving cardiovascular surgery, intensive care and anesthesia. Her extensive research activities, leadership and ongoing pursuit for patient safety greatly support the SmartTots mission.
Q & A
When and why did you become interested in your field?
Anesthesiology is a wonderful field because it encompasses all aspects of acute care medicine — deep knowledge of human physiology and pharmacology, as well as intensive care medicine are essential.
Why SmartTots?
As a board member of the IARS, I voted in favor of trying to find a way to understand how to keep our most vulnerable members of society (the very young) as safe as possible during surgery and other required medical procedures.
Are there any specific goals you would like to see SmartTots accomplish?
Understanding which drugs are the safest for the pediatric population is very important for anesthesia and surgery, but also for ICU and other aspects of pediatric care.
How can the general public support SmartTots?
Donating to fund essential research so that we can begin to understand how sedatives and anesthetics affect the developing brain is important for the ultimate safety of our pediatric patients.
SmartTots
Scientific Advisory Board, Member
International Anesthesia Research Society
Trustee Emeritus
University of Iowa
Dean, Roy J. and Lucille A. Carver College of Medicine
Professor of Anesthesiology, Pharmacology & Biochemistry
Education
Stanford University School of Medicine – MD (1983)
College of Wooster – BS, Chemistry (1979)
Professional Affiliations
American Heart Association
American Society of Anesthesiologists
Institute of Medicine
International Anesthesia Research Society
Sarnoff Cardiovascular Research Foundation
Recent Awards and Honors
American Society of Anesthesiologists (ASA) Excellence in Research Award (2007)
Elected Member, Association of American Physicians (2005-present)
Fellow of the Royal College of Anaesthetists (2005-present)
Editor, Journal of Biological Chemistry (2005-2010)
Member, Stanley Sarnoff Cardiovascular Endowment Scientific Board (2004-2010)
Alumni Trustee, College of Wooster (2004-2007)
Elected Member, Institute of Medicine (IOM) of the National Academy of Sciences (2002-present)
Duke University Medical Center Distinguished Faculty Award (2002)
Member, Board of Trustees, International Anesthesia Research Society (2002-present)
Highlighted Alumni, Stanford University School of Medicine (2000)