Terrie E. Inder, M.D.
Scientific Advisory Board, Member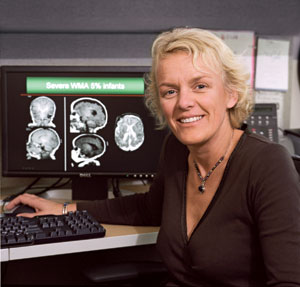 Terrie E. Inder, M.D.
Washington University in St. Louis
Scientific Profile
Areas of Specialty: Dr. Inder holds board certifications in pediatrics and neonatal-perinatal medicine with expertise in neurology and neonatology.
Research and Clinical Activities: As Head of both the Washington University Intellectual and Developmental Disabilities Research Center (WUIDDRC) and the Washington University Neonatal Development Research (WUNDER) team, Dr. Inder conducts studies at the bedsides of newborn infants in the neonatal and pediatric intensive care unit at St. Louis Children's Hospital. She focuses primarily on premature infants, sick term infants, and infants with cardiac diseases. In collaboration with her WUNDER colleagues, Dr. Inder is working to determine the extent to which the brain can adapt to developmental abnormalities caused by premature birth, with the goal of informing and developing clinical strategies that will help normalize brain development. Dr. Inder's multidisciplinary research requires the expertise of various specialties, much like the research necessary for SmartTots.
Dr. Inder is an Editorial Board Member of the Journal of Pediatrics and author of over 100 peer-reviewed publications. Her vast experience is a great asset to the SmartTots Scientific Advisory Board.
SmartTots
Scientific Advisory Board, Member
Washington University School of Medicine
Professor of Pediatrics, Neurology and Radiology
Education
University of Otago, Dunedin, New Zealand – MD (1997) >University of Otago, Dunedin, New Zealand – MBChB (1988)
Training
Child Neurology Residency, Boston's Children's Hospital, Harvard Medical School (1992-1996) Newborn Medicine Fellowship, Christchurch Hospital, Otago Medical School (1992-1996) Pediatrics Residency, Dunedin Hospital, New Zealand (1988)
Professional Affiliations
American Pediatric Society
American Society for Clinical Investigation
Royal Australasian College of Physicians
Child Neurology Society
European Neonatal Brain Club
Society for Pediatric Research
International Society for Magnetic Resonance in Medicine
Vermont Oxford Network Encephalopathy Registry, Steering Committee
Honors and Achievements
Doris Duke Distinguished Clinical Scientist Award (2008)
Child Neurology Society Young Investigator Award (2004)
Clinical Resident Research Award, Society for Pediatric Research (1999)
Recent Research Funding
Predicting Fetal Acidemia with Intrapartum Electronic Fetal Heart Rate Monitoring

National Institutes of Health

Co-Investigator

Understanding Brain Injury and Development in At Risk Infants to Improve Outcomes

Doris Duke Distinguished Clinical Scientists Award (2008-2013)

Principal Investigator

Neurobehavioral Impairments in Preterm Children- A Longitudinal MR Study

National Institutes of Health (2008-2012)

Principal Investigator

Optical Imaging in the Preterm Infant

National Institutes of Health (2007-2012)

Co-Investigator

Evaluation of Brain Injury and Development in the Preterm Infant

National Institutes of Health (2007-2012)

Principal Investigator